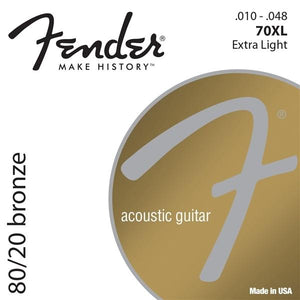 Brand Name: FENDER 80/20 Bronze Acoustic Guitar Strings
Model Number: 70XL
Type: Acoustic Guitar Strings
Reap the benefits of time-tested Fender quality
Fender 80/20 strings offer a great projecting tone and bell-like sustain. The loudness and clarity of these acoustic guitar strings are perfect for use in a band.
Gauge:  70XL: .010, .014, .022, .030, .040, .048
Fender has been an instrument of choice for many of the greatest musicians since 1946. Fender's popularity through the generations is a result of their design innovations and commitment to quality. These guitar strings reflect this legacy and are worthy of the Fender name. Attention to detail and the finest materials ensure that you will get the best feeling and greatest sounding strings, set after set.
Package Includes:  1 x Set of Fender 70XL Extra Light Acoustic Guitar Strings